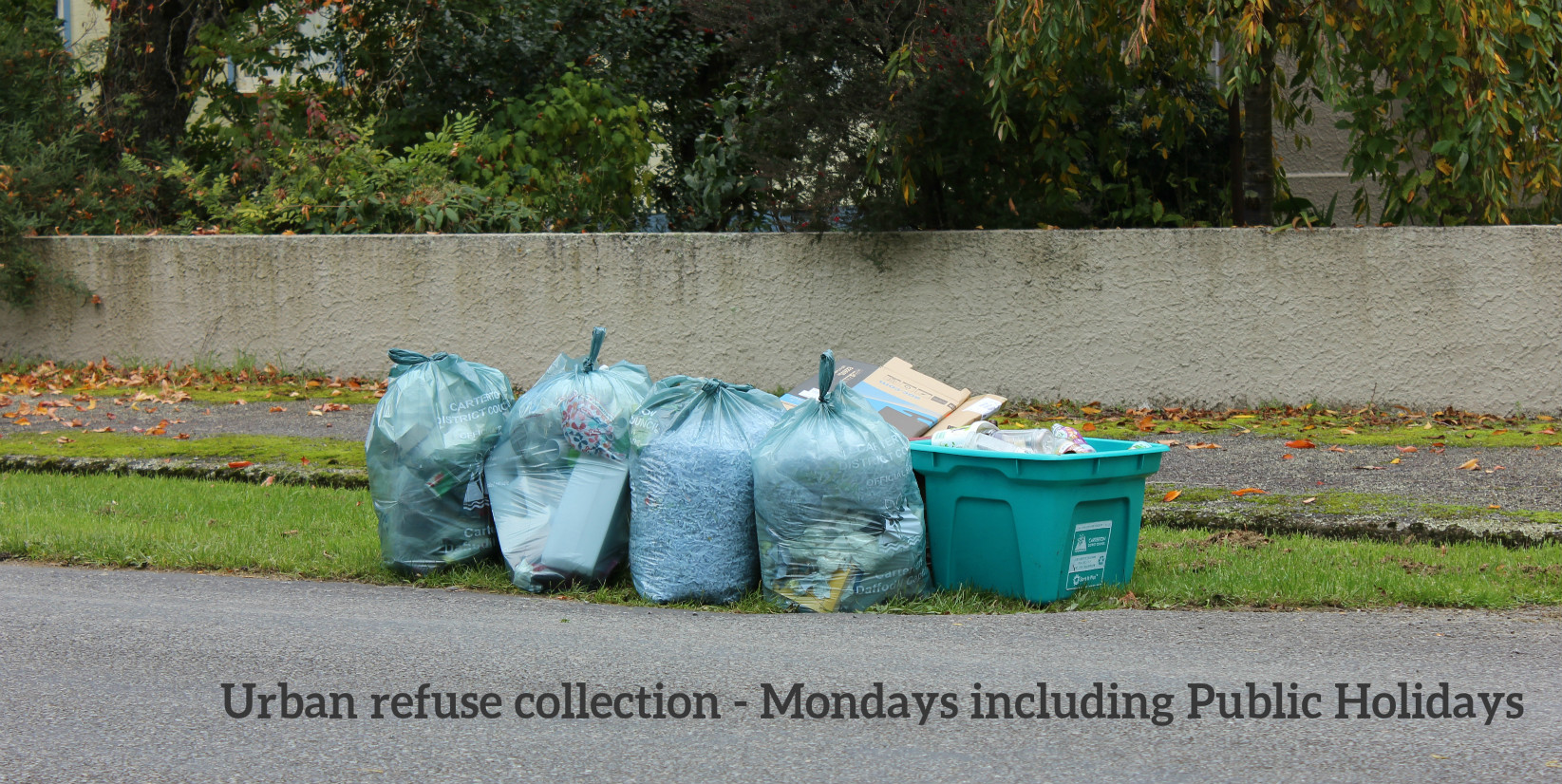 Council Urban Refuse Collection
A domestic refuse collection is carried out once a week in Carterton on Mondays.  Where a public holiday falls on Monday the collection will take place on the same day.  Rubbish must be in an official bag which can be purchased from the Council Office, local supermarket and some dairies for $2.70 each.  The bag charge includes the cost of collection and disposal.
Why use plastic bags?
There a number of reasons why Carterton District Council decided to change their refuse collection bags from paper to plastic;
Plastic bags are cheaper than conventional paper rubbish bags thus saving the cost to ratepayers.
The landfill volume occupied by plastic bags is 70 -75% less.
There is an assumption that paper decomposes rapidly. This only occurs if there is enough water. There are examples of forty year old newspapers from old landfills discovered unaffected by age.
Overall atmospheric emissions for plastic bag production are 60-70% less than for paper bags.
Plastic bag production contributes over 90% less waterborne wastes than for paper bags.
Hazardous Wastes
Hazardous waste comes in many forms – ranging from sludges resulting from timber treatment processes to waste cell phone batteries. There is a significant risk to human health and the environment if hazardous wastes are improperly managed. If you work with pesticides, explosives, poisons, paints, adhesives, cleaners, petrol, solvents or any other hazardous substance, you need to know about the HSNO Act. For more information on hazardous substances check out the Work Safe website 
"DON'T WASTE IT, RECREATE IT"
Special Wastes
Farm plastics: www.agrecovery.co.nz (0800 247 326)
It is estimated that annually 8,000 tonnes of plastic is used in New Zealand agriculture as silage wrap and agrichemical containers. It is better from an environmental point of view, if farmers and growers deliver their plastics to a facility for recycling. It is illegal to burn it, and should be recycled through AgRecovery or landfills.  The plastic used to make these products can be recycled but contamination issues make it difficult to recycle. Processes are currently being developed and trialed to produce products such as fence battens. Watch this space!
Tyres
Each year, an estimated 3-4 million tyres reach the end of their useful life in New Zealand, while some are reused by farmers on silage heaps, and some are converted into other products (such as rubber mats for children's playgrounds), the vast majority go to landfills. However, whole tyres can cause problems in landfills. This is because of the comparatively large amount of space they take up, because they cannot be compacted, and because they present an explosion and fire risk.
ILLEGAL DUMPING – what a MESS!
Some people continue to dump their household rubbish around the district and even in the street-side litter bins around town. This is not appreciated and, in fact, if offenders are identified they may be prosecuted! The small rubbish bins around town are provided for pedestrians to avoid littering the streets.