Click here to see Carterton's daily water usage.
Why are the water restrictions different this year?
We're pleased to have an extra bore up and running this summer, which will help, but we still have limited capacity.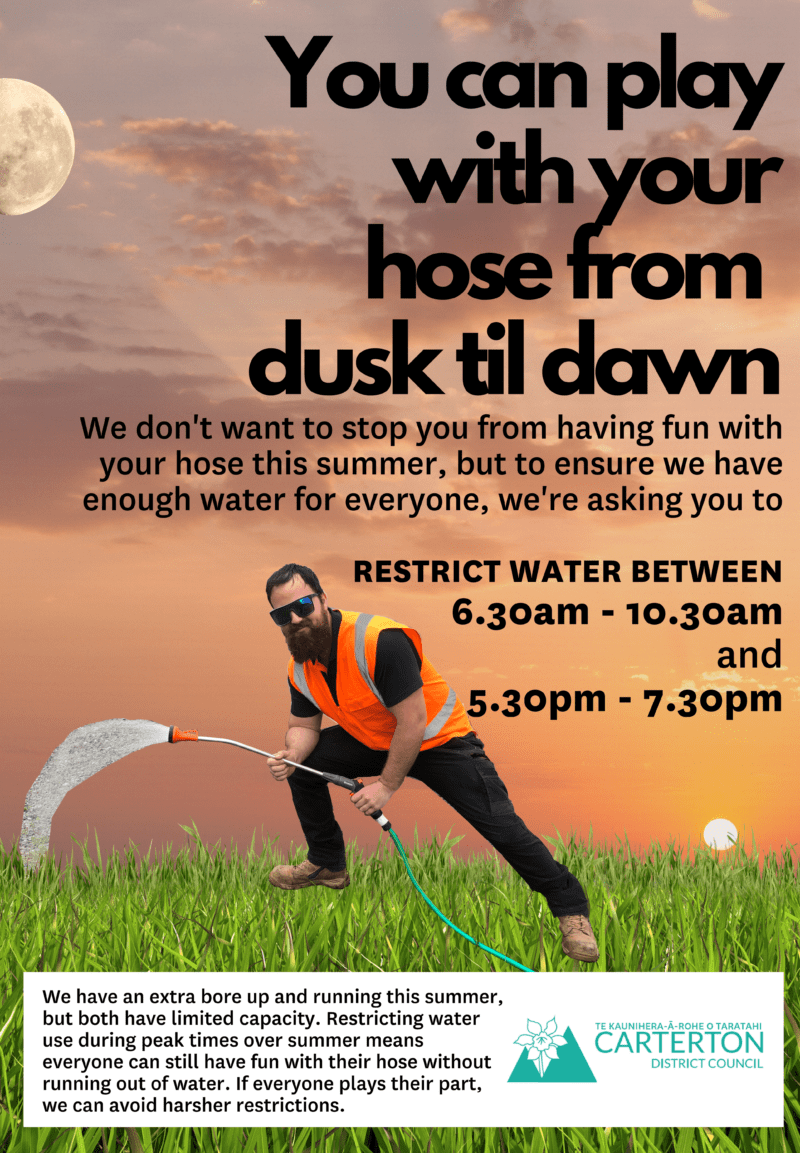 People were frustrated last summer with not being able to water their gardens, so we're trying a different approach this year. There's a high demand on our town water supply between 6.30am – 10.30am and 5.30pm – 7.30pm. From 10 November, we're asking people to avoid unnecessary water use during these times with small simple changes:
Put a load of washing on before bed and hang it out in the morning.
Put your dishwasher on overnight.
Water your garden during the day, or after dusk.
Shower before bed.
Using delayed start timers on your appliances.
If everyone plays their part, it will reduce the demand on our bores and avoid harsher hose and sprinkler restrictions later on. This means people can still do the things they enjoy, such as watering gardens and filling paddling pools, but we really are relying on community buy-in to make it work.
Where does our water come from?
Water supply for the Carterton district comes from the Kaipatangata Stream and two underground bores. These sources are dependent on rainfall.
Carterton's main water supply at the Kaipatangata has relatively little storage capacity so daily collection and treatment of the stream water is closely linked to the volume of water being consumed.
In 1990 the Council undertook the construction of its supplementary bore system. The main purpose of this system is to ensure that during times when the quality and quantity of the Kaipatangata supply is not adequate, the supplementary system can be brought on stream to ensure that residents have water f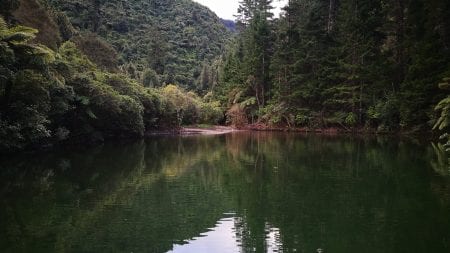 or domestic use and township has sufficient water available for fire fighting purposes.
What increases our water consumption so drastically over the summer months?
During the summer Carterton's water consumption almost doubles that consumed over the winter period. This can be attributed to high levels of garden watering, and other usage such as swimming pool filling and topping up.
A garden hose can easily deliver 20 litres of water every minute; that is equivalent to a bath full of water every five minutes, so it's easy to see how careless watering or leaving the tap on by accident can waste a lot of water.
Click here to learn how to read your water meter.
Conservation Tips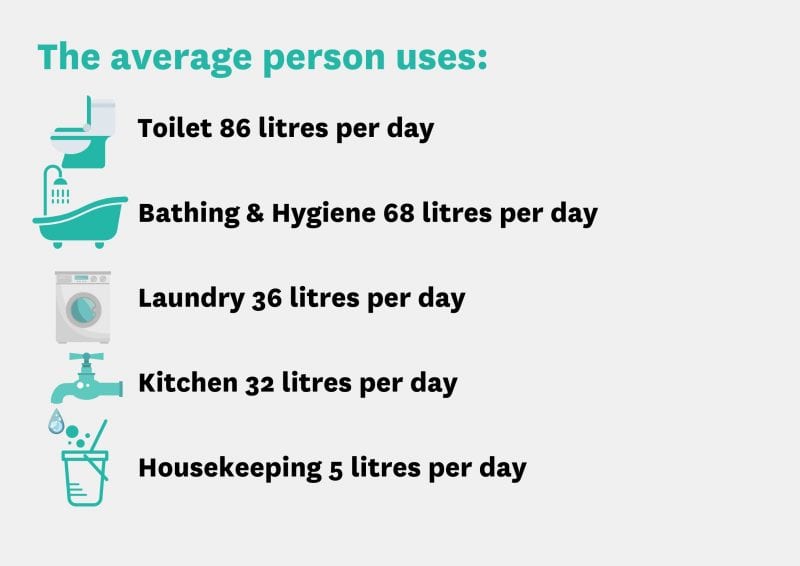 More than 70% of indoor water use occurs in the bathroom and more than 20% occurs in the kitchen and laundry.
When filling swimming pools avoid filling to the top to minimise wastage by water slopping over the top.
Inefficient Use (Litres)

Efficient Use (Litres)
 
 
 
 
 
Shower
Older Style Showerhead 8 minutes
108 to 176
Low flow Showerhead 5 minutes
45
Brushing Teeth
Tap Running
9 to 22
Wet Brush Rinse
0.6
Bath Tub
Full Tub
162
Minimal Water Level
10
Shaving
Tap Running
22 to 67
Tap off, quick rinse
9
Washing Dishes
Tap Running
112.5
Tap off, while washing, sink half full with rinse bowl
22
Washing Hands/Face
Tap Running
9 to 13.5
Tap off while washing
2
Washing Machine
Older Style
180
Efficient
112.5
Toilet Flushing
Old style tank
22
Ultra low flush toilet
7.2
Automatic Washing Machine
Full Cycle
112.5
Short Cycle
54
How will you know that water restrictions have been imposed?
The water restriction wheel located on the Carters building on High Street will display the level of water restriction imposed.
Watch for advertisements in the Carterton Crier and our Council Snippets page in the Wairarapa Midweek.
Listen to the local radio station.
Check on the Council's telephone after-hour service.