Visit the Emergency Management page for information regarding Emergency Preparedness and where your local Civil Defence Centre is located.

Lincoln Road – current scheduled programme of works
December 2019 – Construction of a lime footpath from the end of the existing concrete footpath to Brooklyn Road, and re-shaping the berm drainage at each entranceway.
January 2020 – Replacement and extension of various stream culverts between Pembroke Street and Victoria Street to allow for the kerb and channel installation. This will remove the need for the two existing footpath bridges across the stream as the culverts will extend to the boundary fence line.
February/March 2020 – Construction of the kerb and channel from Pembroke Street to Victoria Street.
November/December 2020 – Widening and construction of the new road pavement out to the newly constructed kerb and channel between Pembroke Street and Victoria Street.
February 2021 – Resealing Lincoln Road from the seal joint south of Victoria Street to Brooklyn Road.

Prohibited Fire Season (Total Fire Ban)
It's hot and dry and windy! Fires are banned from Monday 3 February because it's too risky.
Fire and Emergency NZ can also prohibit the lighting of fires regardless of the fire season.
Anyone wanting more information should visit www.checkitsalright.nz/ or call 0800 658 628

WATER RESTRICTIONS AND SHUTDOWNS
TOTAL WATER BAN NOW IN PLACE
The Kaipatangata stream, which is our main water source, is dependent on rainfall and is currently so low there is no longer any water flowing over the weir.
We are now providing water via the Frederick Street bore field. The maximum daily supply the council can currently maintain is 2500 cubic metres per day and when we go slightly over this, as we have done a few times in January, it compromises our district's firefighting ability.
Due to this, a total water ban is now in place. This means the use of handheld hoses and sprinklers is not currently permitted.
For more info, click here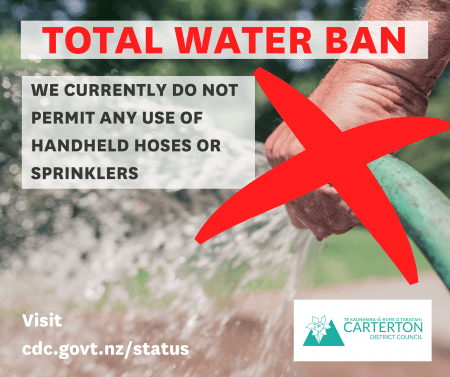 Taratahi & Carrington Water Race Restrictions now in force
Carterton District Council has imposed water restrictions on the use of the Taratahi & Carrington Water Race, due to the lack of rain fall and the current low water levels of the Waingawa & Mangatarere Rivers.
As our water allocation has been reduced to the lowest take, we need to conserve water so the supply reaches our end race users.
This restriction dictates that the race water can only be used for the purpose of Stock drinking water and domestic toilets only. 
Please use your water sensibly and avoid wastage. This will help to ensure that there is a sufficient water supply for everyone.