Recycling & Zero Waste
Last updated: 20 Dec, 2021 08:54am

Our Recycling and Zero Waste commitment
Our key focus is to reduce the total quantity of waste sent to class 1 landfills from 600kg to 400kg per person per annum by 2026. We are confident that with residents, businesses and councils working together we can achieve this goal.
Kerbside recycling and sustainability
In September 2019, the three Wairarapa councils introduced kerbside recycling wheelie bins. The new recycling service was aimed at being cleaner, greener and smarter. Overall with the crates, the service provides an extra 140 litres recycling capacity per fortnight.
How does it work?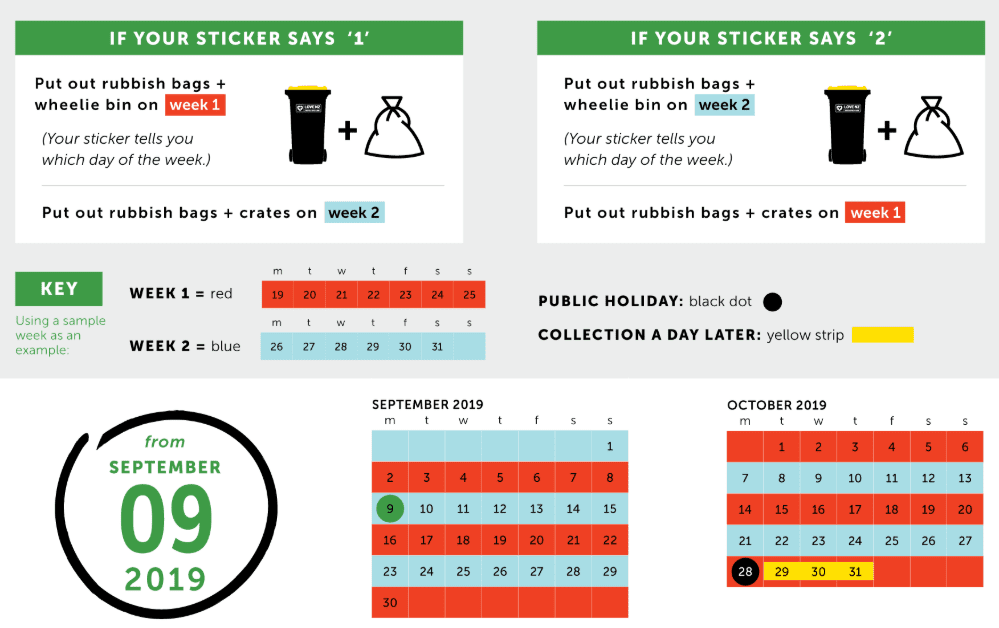 Both recycling crates (green and maroon) can be used for glass only and your recycling wheelie bin can be used for all other recyclables (clean tins, cans, paper, cardboard, plastic bottles and containers numbered 1 and 2 such as drink, water and milk bottles). Your glass crates and the recycling wheelie bin will be collected on alternating weeks. This is why we've numbered the bins with a 1 or 2, which corresponds to the calendar in the booklet which came with the wheelie bins. Bins numbered 1 are the red line on the calendar, and bins numbered 2 are the blue line. This is also available online at www.wairecycle.nz
Key things to remember:
Your kerbside recycling and general waste are collected on Mondays.

Must be out by 7.30 or it stays dirty!
Forgotten whether it's week one or week 2? View the top bar on the homepage of our website cdc.govt.nz
All containers are best rinsed, lids off and not squashed please.
Sorting waste made simple
The three Wairarapa Councils are now a part of the website www.sortwaste.nz to share waste information by stories specific to our greater Wellington region.  
Our first regional joint project through the website is focusing on Plastic Free July 2020, with a PFJ challenge allowing all participants to go into a draw to win prizes. 
Check out the website www.sortwaste.nz
Recycling plastic
Plastics numbered 1-2 and 5 are recyclable and include soft drink bottles, sports bottles, water bottles, milk bottles, cleaning products, and 2-litre ice-cream containers.
Pop these into your wheelie bin.
Plastics that have the number 3, 4, 6 or 7 on them are "disposable" plastics. It's best to avoid using these plastics in the first place if you can.
Plastics numbered 3, 4, 6 and 7 (disposable) include: yoghurt pots, takeaway grocery bags, squeezable bottles, hard containers, medicine bottles, plastic plates/cutlery.
They are no longer able to be recycled because of changes in the global recycling market.
Wairarapa Councils have been stockpiling plastics that can't be recycled in the hope a market will open up internationally.
These types of plastics only make up between 3-5 per cent (based on weight) of what Wairarapa residents put in their recycling bins.
We're sorry this page wasn't useful for you!
Tell us how we can improve this page. If you would like a direct response, please include an email address.