Recycling & Zero Waste
Last updated: 08 May, 2023 01:10pm
Our Recycling and Zero Waste Commitment
Our key focus is to reduce the total quantity of waste sent to class 1 landfills from 600kg to 400kg per person per annum by 2026. We are confident that with residents, businesses and councils working together we can achieve this goal.
Visit our YouTube channel for tips, tricks and information on zero waste and recycling in Carterton and Wairarapa.
Download our rubbish & recycling calendar for the first quarter of 2023. You can also get a printed copy of the new version from our 28 Holloway St office.
Kerbside recycling and sustainability
How does it work?
Both recycling crates (green and maroon) can be used for glass only and your recycling wheelie bin can be used for all other recyclables (clean tins, cans, paper, cardboard, plastic bottles and containers numbered 1 and 2 such as drink, water, and milk bottles).
Your glass crates and the recycling wheelie bin will be collected on alternating weeks.
This is why we've numbered the bins with a 1 or 2, which corresponds to the calendar in the booklet which came with the wheelie bins. Bins numbered 1 are the red line on the calendar, and bins numbered 2 are the blue line.

Key things to remember
Your kerbside recycling and general waste are collected on Mondays.
Must be out by 7.30 or it stays dirty!
Forgotten whether it's week one or week 2? Check out the top bar on the homepage of our website cdc.govt.nz
All containers are best rinsed, lids off and not squashed please.
Visit wairecycle.nz for more information.
Collection Areas
The map below shows weekly collection areas in urban Carterton.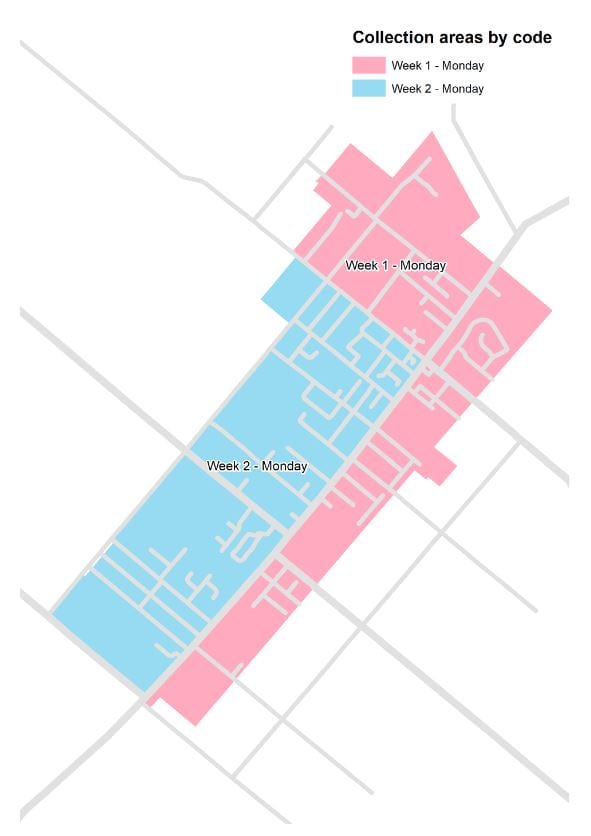 What Can I Recycle?
As well as kerbside collections, Carterton Transfer Station has a range of options for recycling and reusing.
Find out more at the Transfer Station page, and details on plastic, soft plastic, and a battery recycling trial below.
Plastics
Plastic bottles and containers.
Plastics 1 and 2 (such as soft drink, water and milk bottles; food trays and ice cream containers) are recyclable in NZ. Please don't squash bottles.
Soft Plastics
Soft plastics include bread bags, fresh produce, packaging for toilet paper, cereals, courier packs, lightly foiled packs, biscuits and chippie packets, bubble wrap, garden potting mix bags, dry pet food bags – basically, anything that can be scrunched into a ball.
It is free to recycle batteries and soft plastics at Carterton Transfer Station.
Make sure your soft plastics are clean and dry.
You can take them to the recycling shed at the Transfer Station and place them in the soft plastics sack.
Please note – we still cannot accept soft plastics and batteries in your kerbside recycling bin due to the sorting process and how they are recycled.
Batteries
Please note – we still cannot accept soft plastics and batteries in your kerbside recycling bin due to the sorting process and how they are recycled.
How much will it cost me to recycle batteries and soft plastics?
It is free to recycle batteries and soft plastics at Carterton Transfer Station. It is also free to recycle plastic bottles, glass bottles, and tins. You can also dispose of your Carterton District rubbish bags at the transfer station without further charge.
How do I recycle batteries?
Please use the bucket in the recycling shed at the station. Please make sure all batteries are taped on the positive side. Tape is available at the recycling point. Please leave some for other users. If not available, please contact a member of staff. Download a guide.
What kind of batteries are not accepted?
Damaged batteries are not accepted. Please place vehicle batteries in the existing designated area.
What types of batteries can be recycled?
The following types of batteries can be disposed of: Alkaline, Lithium, Nickel, Nickel Metal Hydride, Zinc Manganese Dioxide; Zinc Carbon and Manganese [Heavy Duty]; Coin Cell Battery; Li-ion; Silver Oxide and Zinc Air Battery (Hearing Aid Battery); Lithium Polymer Battery Pack; Laptop Battery; Ni-Cd; Nickel Cadmium Battery Pack.
What else do I need to know about safely recycling batteries?
Here are a few more safety tips for recycling batteries:
Use only the type of battery specified by the manufacturer on the device.
Always store batteries in a dry place at room temperature.
Place batteries in the device in the correct way. (+ve and –ve terminal)
Keep batteries away from children and pets. – Do not store waste batteries in a metal container.
To store waste batteries for recycling, all terminals must be taped to avoid short-circuiting.
Do not attempt to recharge non-rechargeable batteries.
Always turn the device off before removing batteries.
Do not overheat the batteries.
Battery leaks can be caused by trying to recharge disposable cells, mixing battery types, mixing new batteries with old batteries, overheating, storing batteries in a damp environment, and leaving batteries in the device during long-term storage.