9 August 2021
Carterton District Council welcomed its new Chief Executive Geoff Hamilton today with a pōwhiri in the Carterton Events Centre Taratahi Auditorium.
Geoff has made the move from Ōhope and brings with him experience as a Chartered Accountant and a strong background in strategic leadership,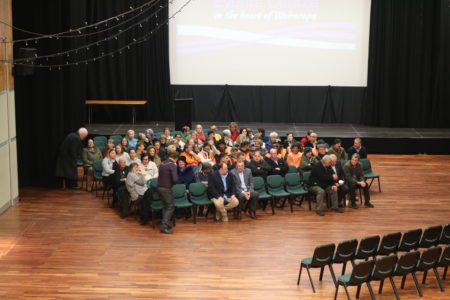 tendering procurement activities and iwi engagement. His Local Government background includes working for Whakatane District Council as the acting Chief Financial Officer and General Manager Business Partnering to lead workshops, developing a Social Procurement Policy and helping implement its 2021-2031 Long Term Plan.
In attendance at the pōwhiri were Council staff, Carterton's elected members, the three Wairarapa mayors, representatives of Hurunui-o-Rangi marae who led the karanga, and students of Carterton School. Matua Henare Manaena of Hurunui-o-Rangi marae spoke on behalf of Tangata Whenua, and Carterton School performed the waiata 'Whakataka Te Hau' on behalf of the Council.
Mayor Greg Lang was pleased to welcome Geoff and his family to the district and acknowledged past leaders from Carterton Borough and Carterton District Council dating back to 1887.
"There are many changes on the horizon for Local Government across New Zealand, as well many opportunities for our District as we continue to work on developing our town centre," Lang said.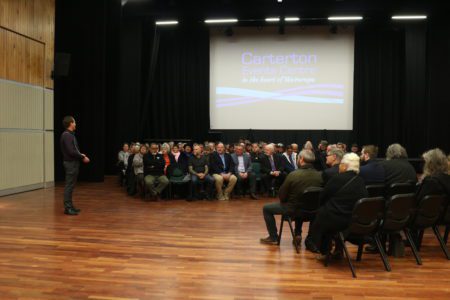 "I am really looking forward to working collaboratively with Geoff to achieve the best outcomes for Carterton."
In Geoff's address to the Council, he acknowledged the transformation Local Government is facing, and his intentions to guide the Council through any upcoming changes.
"I'm here to listen, learn and guide the Council and community through changes being proposed by Local Government," Geoff said.
"I look forward to working with the council, staff, iwi and community and provide a voice for Carterton and the wider Wairarapa District."