Carterton District Council has just announced a pawsome change to dog registration that will have you wagging your tail in excitement.
Say hello to your new Dog Tag For Life!
No longer will you have to search for your dog's latest tag or worry about contributing to the landfill with 3500 plastic tags each year. Instead, you'll receive one shiny metal tag for life with a QR code that holds all your dog's and your contact details.
But wait, there's more! For a small extra fee, you can have your details loaded into the QR code, allowing anyone who finds your furry friend to contact you directly, without the need to call animal control or post endless "is this your dog?" messages on social media.
It costs just $12 to register your personal details with Tag King. Once your Dog Tag For Life arrives in the mail, just use your phone to scan the unique QR code on the tag. This will take you to TagKing.nz where you can upload your information. If you just want to provide your dog's name to the database, this is free of charge. Remember, the more information you load onto your unique QR code, the easier and faster it will be for beloved missing pooch to return home.
Find out more about Tag King's QR coded Pet Tags on their website – TagKing.nz.
Your new QR Code can store many helpful and important details
The QR code also helps ensure a quick return if your dog is picked up by animal control, and it keeps track of their vaccinations. Plus, in case of emergencies, it provides critical information to our brave first responders.
Now, we know that some dogs and their owners can be a bit… challenging. That's why the annual registration fee for dangerous breeds and those in urban areas will be slightly higher. We need to cover the cost of running animal control for higher users.
But don't worry, we've made the registration process a breeze! You can easily register your dog online, saving you time and council resources. And, for all the seeing-eye dogs out there, we've got you covered too. You'll only need to pay 50% of the fee.
Join us in reducing plastic waste and simplifying the process for both you and your furry friend with Dog Tags For Life!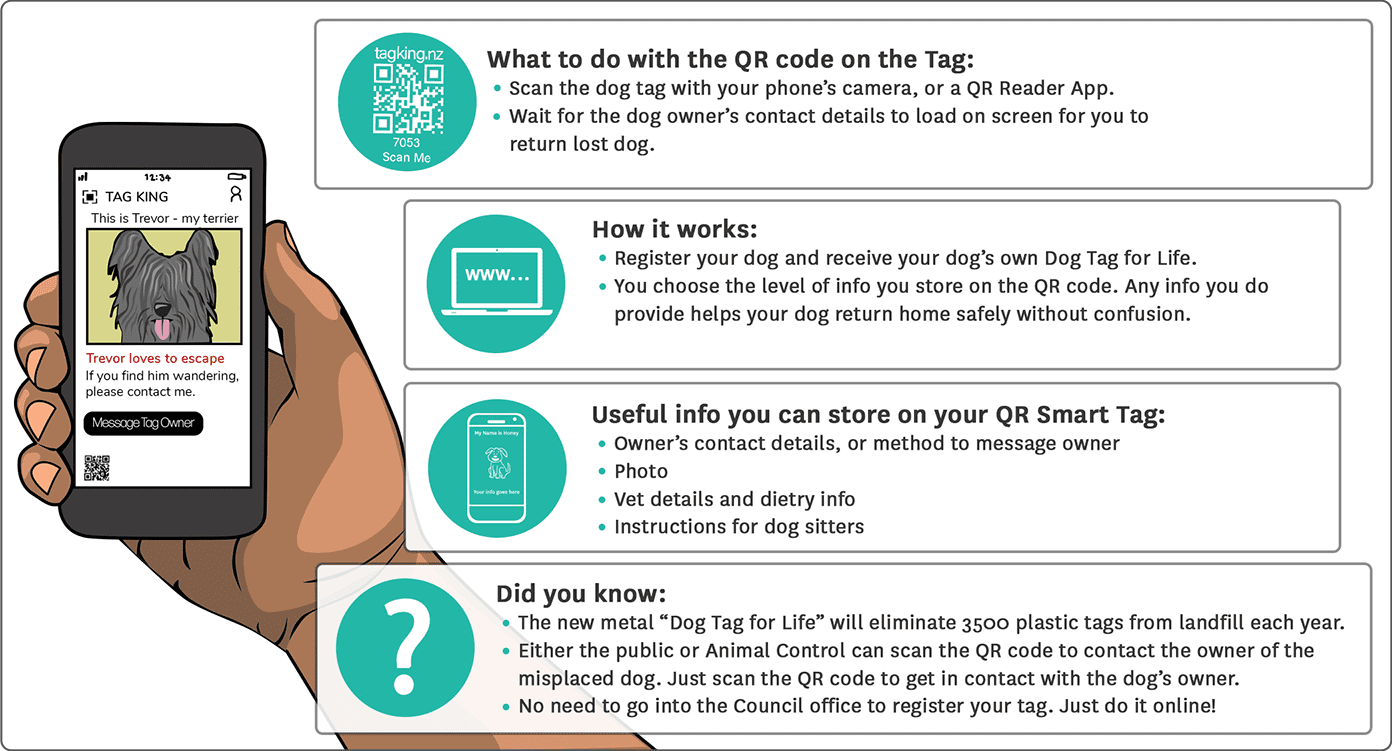 Dog Registration Fees 2023/24
Carterton District Council has set the following dog registration fees inclusive of GST for each and every dog of or over the age of 3 months for the financial period commencing 1 July 2023 and ending 30 June 2024 registered in the Carterton District.
 

2023/24 Fees including GST
From 1 August, 50% of the fee will be added as a penalty.  For certified seeing-eye or hearing dogs, a fee of 50% of those stated below applies.
Urban – entire dogs
$110.00
Urban – spayed/neutered dogs
$85.00
Over 65 canine companion
$75.00 per dog
Rural – non-neutered and neutered dogs – first two dogs
$75.00 per dog
Rural – non-neutered and neutered dogs – all remaining dogs
$40.00 per dog
Dog classified as dangerous
$165.00
Urban -application for permit to keep more than two dogs
$75.00
Impounding Fees
| | |
| --- | --- |
|   | 2023/24 Fees including GST |
| Dogs, sheep, goats | $150.00 per animal |
| Second time impounding fee (dogs only) | $200.00 |
| Third and subsequent impounding fee (dogs only) | $250.00 |
| Cattle, deer, horses and all other animals | $200.00 per animal |
| Droving charge – calculated on actual cost including labour and plant hire | Actual cost |
| Sustenance fee – all animals | $20.00 per day |
How to register your dog
If this is your first time, you will need to visit the Council and complete the simple process there. However, if your dog is already registered and you just need to renew the registration, then do it online. All you will need is:
Your credit/debit card
Your owner number (use this as the reference code)
You can also pay via Internet Banking. Visit How to Pay for more information.
Once payment is made, your dog/s tag will be posted to you. Please allow up to 2 weeks to receive your tag/s. Once you receive your dog tag/s in the post, just scan the QR code with your phone to get instructions on how to load your contact details to the unique code. For more information about the QR coded dog tag, visit TagKing.nz.
Have any further questions?
Visit FAQ for answers to other Dog Registration questions.