Community Resources
Last updated: 05 May, 2022 04:03pm
The Community Services team supports the wider community by providing a variety of resources, from localised and national publications to places for community groups to meet and more.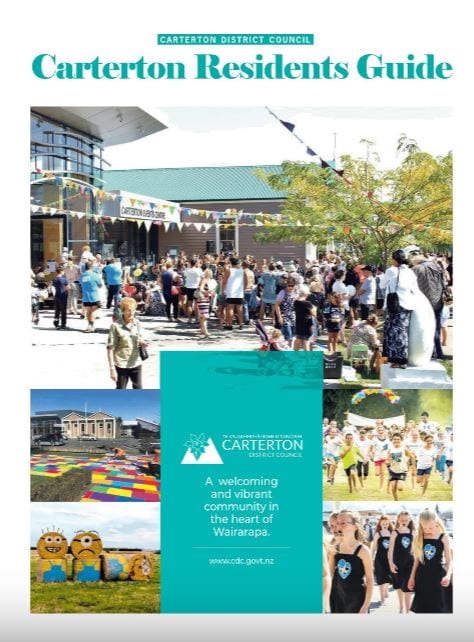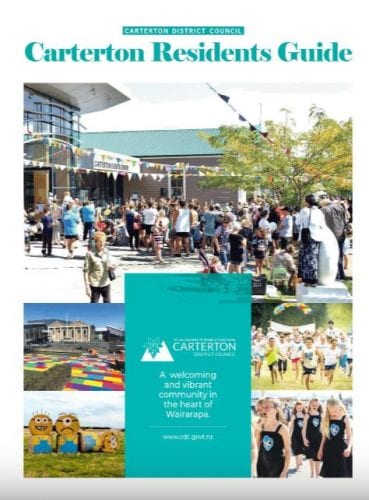 Carterton Residents Guide
The Residents Guide is a handy source of information about local services including Heritage, Arts, Faith, Health and Well-being, Community Support, Government Agencies, and Special Interest groups.
Hard copies are available from the Carterton Information Centre or click the image to view it online:
Community Spaces for Hire
Carterton Events Centre
The Carterton Events Centre offers community groups reduced hire rates for meetings and events.  Located in the heart of the Wairarapa, the rooms are flexible modern spaces able to accommodate many different uses.  Visit the Carterton Events Centre website for more information.
Haumanu House
Located down the lane behind the Council Building and Police Station (access from SH2 beside Carters), Haumanu House is a free venue for available to organisations and groups providing free community services.  For more information contact Sandra Burles, Ph 379 4081 or email sandrab@cdc.govt.nz
Parks and Facilities
Many of Carterton's parks and facilities are available for community use.  You can view these on our website:
To book a park or facility, contact Clinton Thompson, Parks & Reserves Manager, Ph 379 4098 or email clinton@cdc.govt.nz
Community notices
The electronic community noticeboard located outside Carrington Park is available free of charge for clubs and organisations promoting Carterton events. Community notices can be booked using our online form or by contacting the Carterton Information Centre on Ph 379 4081 or email infocentre@cdc.govt.nz.
Community notices can also be posted on the Council Community Events webpage and the Carterton Information Centre Facebook page by contacting 06 379 4081 or emailing infocentre@cdc.govt.nz.