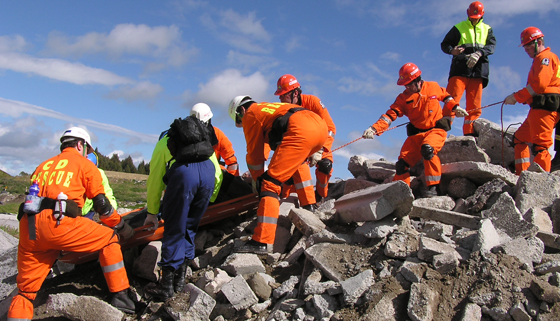 In the event of a natural disaster or civil defence emergency, Carterton District Council are responsible for the coordination of emergency management procedures.
Carterton District Council is assisted by the Wellington Region Emergency Management Office (WREMO), which was formed in 2012. It is a semi-autonomous organisation that co-ordinates Civil Defence and Emergency Management services on behalf of the nine councils in the Wellington region.
The Carterton Community also has an important role in preparing for, and responding to an emergency.  As we saw in Christchurch and other disasters around the world, people want to help those in need. After a significant emergency, such as an earthquake, the community will naturally come together for company, to share their stories about their experience, find out information, offer assistance to those who need it, and look for assistance.
Together with WREMO, the Carterton Community has developed the Community Emergency Hub Guide and Response Plan, a document to prepare and guide the community in the unlikely event of a major disaster occurring.
Carterton Community Emergency Hub ( previously known as Civil Defence Centre or Welfare Centre.)
In the event of a significant event Carterton's Community Emergency Hub operates out of the Carterton Events Centre on Holloway St. The Hub, will provide you with information so that our community knows how to help each other and stay safe. It will help you understand what's happening and provide a safe place for us to support each other.The volunteer group along with council staff will help coordinate needs and resources within the community and enable us to get timely and accurate information to those responding to the emergency at the EOC (Emergency Operations Centre).
Contact Carrie McKenzie, Community Services Manager if you have an interest in being a part of the Community Emergency Hub.
Being Prepared
Emergency preparedness is essential to the safety and well-being of yourself, your family and your neighbours. Planning for an emergency and having sound community networks and support, will prove vital in creating a resilient community if an emergency occurs.
Preparing your household or business for an emergency is incredibly important. Having great resources to help you do so is the first step. The WREMO website is full of emergency preparedness planning tips and advice. They also have great links to local information and training workshops.
Carterton District Council, WREMO, Resilient Carterton and Neighbourhood Support, are working together to create a detailed Emergency Management plan, which will be adopted in case of an emergency.
Each of these groups are working within the community currently. Emergency Preparedness workshops, planning sessions and regular correspondence are being developed to raise awareness on this important topic.