Carterton is a diverse community that welcomes new residents from throughout New Zealand and all over the world.
Keen to be kept up to date with what's going on?  Please  click here to be added to our new resident mailing list.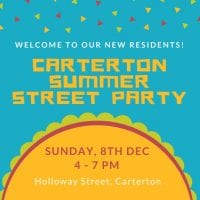 Every year on the second Sunday in December we hold an event just to welcome you! The Carterton Summer Street Party!
Holloway Street will be closed to vehicular traffic and there will be food trucks, a live band playing, and entertainment for the whole family. A cash bar will also be operating inside the Carterton Events Centre foyer.
So bring your deck chairs, picnic rugs and bean bags – meet the new members of our community and reconnect with those you already know.
This is a free event! Invite your friends, family and next-door neighbours to come along and we'll see you all there!
Carterton Information Centre
The Carterton Information Centre, based at the Carterton Events Centre, is the ideal first point of contact on arrival and provides a New Resident Package to show what the district has to offer.  Information about local services, interest groups, activities and volunteering opportunities are provided.
Welcome to Carterton
New residents are made to feel welcome at Wild Oats on the last Friday of each month at 5.30pm.  For more information contact Kylie Mole, Ph 027 688 9401.
Citizenship Ceremonies
Citizenship ceremonies are held by the Carterton District Council on behalf of the Department of Internal Affairs to welcome new citizens to New Zealand and confirm their citizenship.
The ceremonies are held at the Carterton Events Centre and officiated by Mayor John Booth.  Candidates' family and friends are invited to share in the memorable experience and witness the candidates' public declaration of their commitment to New Zealand.
For further information, including details of fees, or to get an application form please contact:
New Zealand Citizenship Office
Freephone: 0800 22 51 51 (New Zealand only)
Phone: (+64 4) 463 9361 (from outside New Zealand)
E-mail: citizenship@dia.govt.nz
Website: www.citizenship.govt.nz
To contact someone at Council to discuss further – contact Gerry Brooking, Community Development Coordinator, on 06 379 4030 or gerry@cdc.govt.nz
Useful links
More information is available at:
New Zealand Citizenship Office