Charles Rooking Carter Awards – Celebrating Carterton's Coolest People!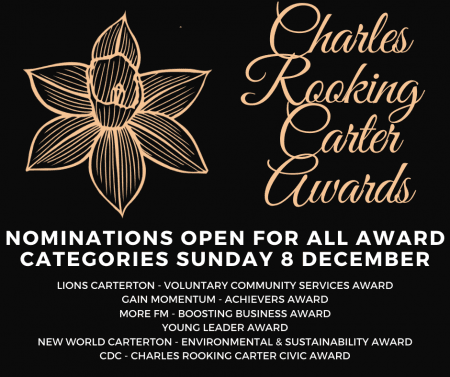 The Awards Ceremony will be held on Saturday 23rd May 2020
Visit our Charles Rooking Carter page. 
The Charles Rooking Carter Community Awards was created by the Carterton District Council in 1994 to publicly acknowledge and celebrate the outstanding volunteer work, business innovation and achievements of members in the community.
The Awards are named after Charles Rooking Carter who was a strong advocate for Wairarapa settlers and was instrumental in developing many public services in Carterton including the library, an astronomical observatory, cemetery, post office, court-house and police station. His most notable gifts to the town were the Carter Home for aged men, now known as Carter Court, and the Carter Reserve, an area of native bushland.
To date, over 136 Charles Rooking Carter Community awards have been given to people who generously provide time, passion and commitment to making Carterton a caring and thriving place to live.
Citizenship Ceremonies
Citizenship ceremonies are held by the Carterton District Council on behalf of the Department of Internal Affairs to welcome new citizens to New Zealand and confirm their citizenship.
The ceremonies are held at the Carterton Events Centre and officiated by Mayor John Booth.  Candidates' family and friends are invited to share in the memorable experience and witness the candidates' public declaration of their commitment to New Zealand.
For further information, including details of fees, or to get an application form please contact:
New Zealand Citizenship Office
Freephone: 0800 22 51 51 (New Zealand only)
Phone: (+64 4) 463 9361 (from outside New Zealand)
E-mail: citizenship@dia.govt.nz
Website: www.citizenship.govt.nz
To contact someone at Council to discuss further – contact Gerry Brooking, Community Development Coordinator, on 06 379 4030 or gerry@cdc.govt.nz