Get to know John!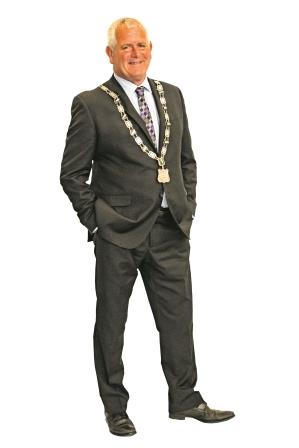 Which area in Carterton do you live?
I Live on Dakins Road which starts at the eastern end of East Taratahi Road. Dakins Road runs down and along side the popular swimming hole called the Cliffs.
How long have you/your family lived in Carterton?
My family have lived in the Carterton District since 1874 when they settled on the original family farm called  Middle Run in Gladstone, our farm is called Mellow Rise.
How long have you been on Council?
I first elected to council in 2010 and re elected in 2013. At the inaugural meeting of council in 2013 I was elected the Deputy Mayor. In September 2014 the then Mayor Ron Mark was elected to Parliament,I put my name forward via nomination to be Mayor and was elected early October 2014 to be Carterton's Mayor. In 2016 I was reelected as Carterton's Mayor for a further three year term.
Why did you stand for Council?
I stood for council when a group of Rural ratepayers visited me asking if I would consider standing as a rural councillor, as at that time the council was made up of three rural councillors and five urban councillors. They wanted to have a strong voice representing them on Rural matters at the council Table. I also supported the building of the Carterton Events Centre and wanted see that project completed.
Do you have another job/role/business aside from being a Councillor?
My business interests are our family farms which are at the Northern end of the original Middle Run farm.The farm is a cattle grazing operation along side which we grow cereal crops and hay, silage and balage. I am also a director of a NZ Company which imports and exports heavy roading and construction machinery. I am also a partner in a forestry growing operation in the Eastern Wairarapa Hills.
What are you passionate about, or what are your particular interests?
I am very passionate about the well being of the people of the Carterton District and being involved in determining our future direction as a community. I love the interaction with people from all walks of life, and totally enjoy getting out on the road and discussing council matters with our people to improve their lives and solve problems.
My interests on a personal basis are my family; my wife Julie,my three adult children and seven grandchildren. My other passion is flying aircraft. Many years ago I was involved in competing in local and national flying competitions. I have a current light sport aviation license which I intend to make a lot more time for in the near future.
.
Committees and Working Groups 
Council
Audit and Risk Committee
Infrastructure and Services Committee
Policy and Strategy Committee
Hearing and Appointments Committee
Water Race Committee
Rural Travel Fund Committee
Grants Committee
Road Closure Committee
Civil Defence and Emergency Management Group Joint Committee
Wellington Regional Transport Committee
Wellington Regional Strategy Committee
Wellington Mayoral Forum