As Built Plans
Last updated: 28 Jun, 2018 12:10pm
In an effort to assist local trades people source important infrastructure information about new subdivisions in the Carterton area, our Infrastructure, Services, and Regulatory team have provided an "As Built Plans" portal to provide up to date information to those needing it.
Please follow the below steps to access the portal:
Step one:
After clicking on the portal link below, select 'Public' button to the left of the screen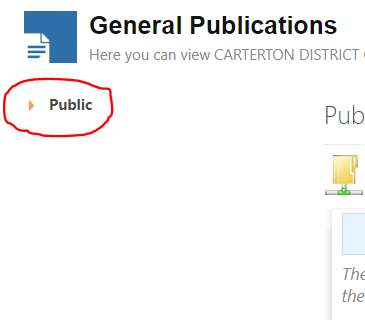 Step two: Select  'As Built Plans'.
You can then scroll through all of Council's online "As Built Plans".
DISCLAIMER: The Carterton District Council accepts no responsibility for actions or projects undertaken or loss or damages incurred, by any individuals or company, or agency, using all or any of the information presented by these plans.
The Carterton District Council do not provide interpretation of the information or advice on how to interpret, or utilise this information provided.
Your own independent and appropriate professional advice should be sought.
The information displayed on these maps may contain errors or omissions or may not have the spatial accuracy required for some purposes.