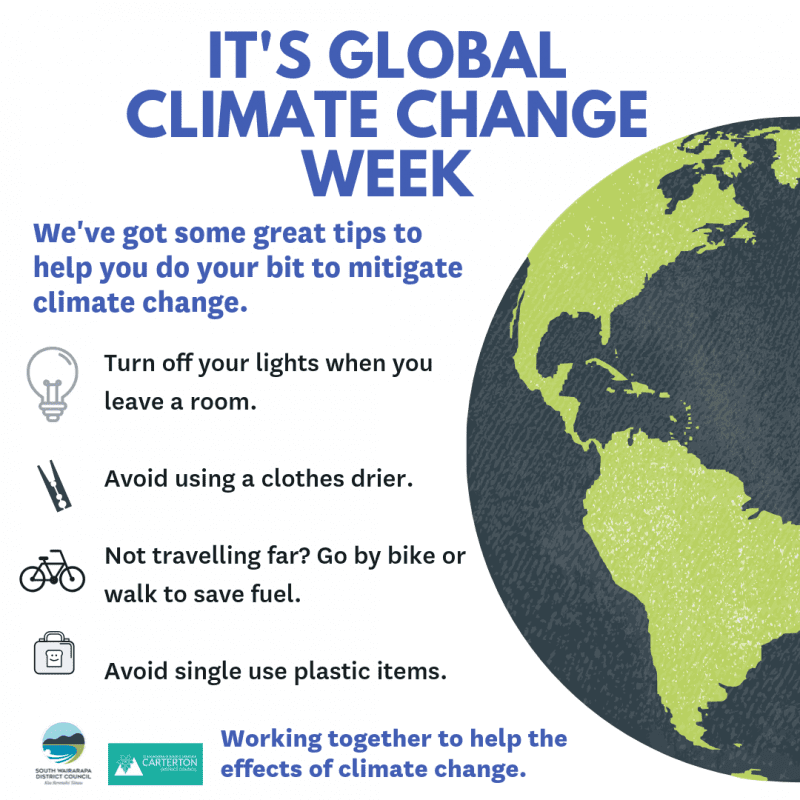 Helping reduce the effects of climate change has become even easier for members of the South Wairarapa and Carterton communities after the two councils developed a set of easy to follow actions to start during Global Climate Change Week.
The councils' newly appointed Climate Change Advisor Mélanie Barthe has already been busy writing a strategy to help advise the two councils on what meaningful action they can take to mitigate the effects of climate change through their daily operations.
Part of Mélanie's role is to also provide information to the community about the practical steps they can take, which is why she has put together a simple guide for both council staff and communities to follow. Melanie said it is important our councils are leading by example and inspire their communities to take action.
"Global Climate Change week is the perfect opportunity for the Carterton and South Wairarapa District Councils to show the community that we are taking actions to reduce our emissions," Mélanie said.
"This week aims to explain what Climate Change is and why the climate is changing. We also propose actions that are easy for everyone to do, even with no budget.
"Everyone can help and everyone has a role to play in reducing the impacts of climate change."
The guide outlines the effect climate change is having on the Wairarapa region and simple things people can do, such as saving electricity, recycling and conserving fuel where possible. Council staff actions include carpooling to offsite meetings and making sure lights, fans and computers are turned off when not in use.
There will also be a series of social media posts to give people handy tips, as well as a competition, kindly sponsored by Mitre 10 in Martinborough, to recognise the members in our community who are working hard to do their bit in looking after our planet.
The councils will release a more in-depth list of actions they will be taking in their daily operations once the climate change strategy is complete in mid-2020.
For more information on what your council is doing and how you can take part, visit our climate change webpage here