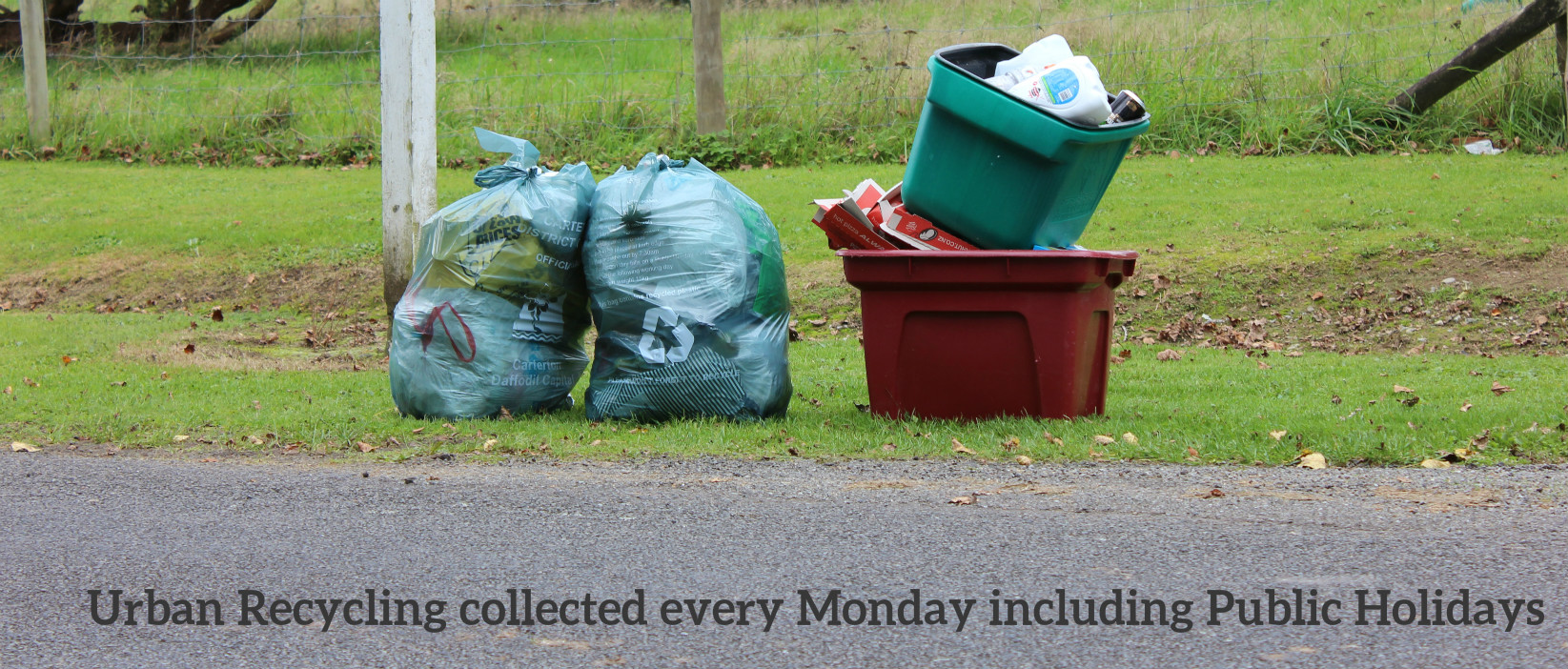 What You Can Recycle in your Kerbside Bin – Collected every Monday including Public Holidays
Paper and corrugated cardboard
Paper, magazines, etc can be tied in a bundle and placed on your bin. Please flatten all corrugated cardboard. If it doesn't all fit in the bin provided, please visit the transfer or recycling station.
Aluminium drink cans and metal food tins.
Please clean pet food, fish cans and others that smell. Wash and squash!
Plastic
All bottles marked with '1' to '7' except '6 EPS' (Look on the bottom of container for the number). Includes all milk and soft drink bottles, some ice cream containers, detergent and shampoo bottles. (Please take tops off as they are not made of recyclable plastic, apart from milk bottle tops which are ok to leave on).
Glass
Clean, unbroken bottles and jars. Please remove tops. NB: All glass must be placed in your green bin, if you leave glass in cardboard boxes or outside the bin it will not be picked up as it has been known to cause injury to the recycling workers. No broken drinking glasses, window/mirror glass, crystal, ceramics, pottery or light bulbs please.
Recycling Facilities in Carterton
Dalefield Road Transfer Station.   – provides a comprehensive recovery operation which includes:                             
separation and shredding of green waste

collecting and crushing of derelict car bodies

recycling of glass bottles

recycling of plastics '1' to '7'

recycling of paper and corrugated cardboard.

recycling of white ware and other metal

2nd hand goods operation

recycling of nickel based batteries
AGRECOVERY RURAL RECYCLING PROGRAMME
Agrecovery was established in 2005 to address persistent "on farm" waste issues.   Agrecovery provides New Zealand farmers and growers with nationwide agrichemical container, silage wrap and crop protection net recycling as well as a programme for the collection of unwanted chemicals.  For more information please visit the Agrecovery website http://www.agrecovery.co.nz/