Movin' March 2018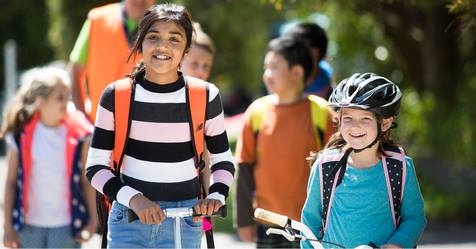 Celebrate the benefits of active travel to school!
Movin'March 2018 aims to make active travel to school fun and easy with the WOW Passport Competition and Park and Stride.
WOW (Walk or Wheel) Passport Challenge
The popular WOW Passport Challenge is back for its third year! Students who walk or wheel will get their Passport cards stamped and go in the draw for the chance to win a $300 Avanti voucher.
Find details on how to participate
Park and Stride
Park and Stride allows all families to participate in the WOW Passport Challenge. Parents are encouraged to park further away from the school gate and walk or wheel with their children, or drop them at designated
points to meet up with friends. Students get fresh air and exercise on the way to school and develop independence while reducing congestion at the school gate – it's a win win!
Find out how to implement Park and Stride
Parent Photo Competition
Encourage your parents to snap and share a photo during WOW Family Day. All entries will go in to win a family pass to their favourite Wellington Wild Things destinations.
Poster Competition
Design a poster to reflect the benefits of walking and wheeling. The regional winners will receive a Panasonic Tough Camera!
For more information visit the Movin' March website or Facebook page.